Since diving into the tech and entrepreneurship community in Boston, I've attended many, many events. Lectures, workshops, mixers, conferences, classes, pitch parties -- you name it. Some of these have been incredibly informative, helpful, even inspiring.
There's always something exciting going on in this city, and you don't want to be struck with
FOMO
.
How do I find out about these great startup events? I thought I'd share my sources and recommend some of my favorite can't-miss meetups.
Where to Find Boston Startup Events
Eventbrite
The majority of events in the innovation community are listed in
Eventbrite
. Many of them are free, and you can even filter your search results to show only free events (which is great when you're a starving founder). You can search by date, location, and of course, topic. I recommend you skim the search results from the following keywords:
Of course, if you're looking for a more specific, niche event, go for narrower keywords and phrases, ex., "women tech," "UX design," "content marketing," etc., depending on your interests.
Meetup
Another source of discovering worthwhile events is
Meetup.com
.
Again, I recommend searching the list of keywords above to find groups that might be of interest to you. Once you join a few groups, Meetup will suggest similar groups that you might like. Some groups are open to join with a click; some require you fill out some information about yourself first, and still others require admin permission. In your email settings, you can get alerts about new events added by your groups, so you never miss a thing.
Some Meetups I'm a part of:
Greater Boston Startup Culture Meetup
Startup Cafe Boston
Boston New Technology Meetup Group
Boston Startup Founder 101
Boston TechBreakfast
Boston Women-Led startups Meetup
WeWork Boston Events
Boston Entrepreneur ThinkTank
Coworking Spaces
WeWork, Workbar, and Cambridge Innovation Center are three of the top coworking space franchises in greater Boston. Part of what makes them great is that they often host community events that are free and open to the public.
WeWork
- an international coworking space franchise. You can browse events on their
event page
by filtering for city:Boston. Of course, there's also the
Meetup group
listed above.
Workbar
- currently has 2 locations, one in Central Square, Cambridge and one near South Station in Boston. Check out
event listings on their website
or sign up for their email newsletter.
Cambridge Innovation Center
- currently has 2 locations, one in Kendall Square, Cambridge at one on Milk St, Boston. Check the
CIC blog
for a
weekly blog post by Geoff Mamlet
about upcoming public events hosted by the CIC.
Mass Innovation Nights Email List
Mass Innovation Nights
is the brain-child of innovation guru and marketer extraordinaire
Bobbie Carlton
. The monthly MassInno events themselves are always a treat, great for discovering new products and ventures while networking with an excellent crowd. But beyond the MassInno events themselves, the
MassInno email newsletters
include an exhaustive list of upcoming events, free and paid, for the New England entrepreneurship community.
Recommended Boston Startup Events
Venture Cafe

Venture Cafe is a staple of the Boston startup scene. Every Thursday from 3-8pm, innovators of all stripes congregate in the cafe space on the 5th floor of the Kendal Square CIC. The beer and soda flow freely, often with accompanying snacks. The Thursday get-together are primarily for networking, but sometimes there are structured events like panels, speakers, or workshops. Check their calendar for special events.

StartupStir
I always look forward to
Startup
Stir
events. They're consistently well-organized and informative, often with free food and cocktails, and sometimes free or with a nominal ticketing charge. Usually there's 30 minutes of schmoozing and snacking, followed by an hour-long panel discussion with experts on a topic. Past topics include social media branding, creating apps, and women in innovation. The founder, Aaron Radez, moderates the panels with grace and humor.
MIT Enterprise Forum
The
MIT Enterprise Forum of Cambridge
has an excellent reputation for hosting quality events. You can join their email list to hear about what's coming up. If you plan on attending multiple events there, it's worth it to buy a membership. This gives you discounted admission, plus a bunch of other
benefits they list on their website
. The events I attended there have been catered both before and after the event, and attracted people who are seriously invested in the innovation economy. Great spot to network and keep current with the industry.
Boston New Tech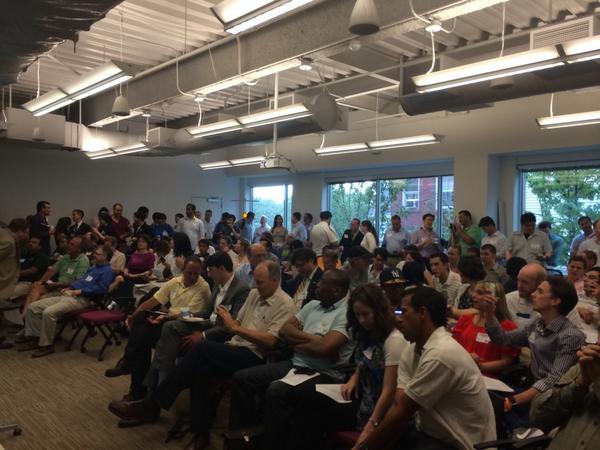 I hear about the monthly Boston New Tech events via their
Meetup group
. The events are always free, often heavily catered, and well attended. After generous networking time, attendees take their seats and listen to a series of pitches by presenting founders. Startups use Boston New Tech as a forum to announce new products, gauge interest in their business idea, and connect with potential investors or clients.
--
Do you have Boston startup events you'd like to recommend? Please share your favorites in the comments.